If you enjoy this post, make sure you subscribe to Be A Good Dad to receive new posts in your
email
or
feed reader
We did a little bit of pre-Christmas toy removal over the last couple weeks. We were getting tired of never being able to find the toys we wanted amidst the odds and ends of toys that we have accumulated over the last few years. We've never really done a big toy give away because we knew we would probably need the baby toys again (your welcome, Giggles) and Geetle and Pookie still occasionally play with some of the old toys.
Between the gifts they will get for Christmas and Geetle and Pookie's birthday in January, we knew the house would pop if we didn't do something. Plus, Pookie has been getting extremely focused on certain kinds of toys that beep or talk. He will repetitively click the button and only click the button for long periods of time. We got rid of a ton of those toys just to try and shake up those patterns.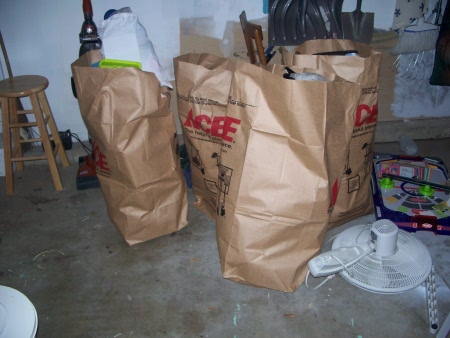 Those 4 lawn and leaf bags were just one of the two trips that we made to the local Goodwill. Nobody has complained about anything missing yet. Pookie is beeping a lot fewer things (but moving on to knew obsessions including a cookie cook book that looks like a calendar that we get to "read" at bed every night now). Toys are a lot easier to find and clean up.
And, perhaps most importantly, there is hope of getting through Christmas and birthdays without putting too much pressure on the seams of our house.